Yes, I said "a couple of minutes". Well, 1,440 is a couple of 720 minuteses. :)
As promised, I will be making my selections for who I think should be in a Big Brother "All Star" show. Here is my sixth pick.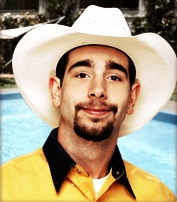 Michael "Cowboy" Ellis - Big Brother #5
You know, I thought and thought about that. But I would probably do it all over again. I did it for my family, and fifty grand pays off some bills. I might not be able to get my dude ranch, but I'm a winner. It was an honor to be here and I've been a fan of the show for long time. It was an honor to be able to participate.
Why Cowboy?
This was his speech before he evicted his half-sister Nakomis from BB5:
I first off wanna say y'all are wonderful young ladies I love both of y'all, and this is not a decision on, if, you know I hate one of y'all because that's not it. Nakomis, um, like you said we both are brother and sister, we do got that from this game. Uh, you did make a promise to me that if you won HOH you would not put me up, and I'm factoring that in as well. Diane, um, you've been awesome we you know did not, uh, agree on a lot of things at the beginning of this game, and we have grown closer over the, uh, several weeks. And you know you have been honest with me these past few weeks, and, um, we did make a agreement and I am a man of my word, and I do use the veto to save you Diane.
I didn't follow a single bit of his reasoning for letting his half-sister take the fall, and that's why I want him back in.
Previous picks:
Tags:
big brother
,
michael ellis
,
television